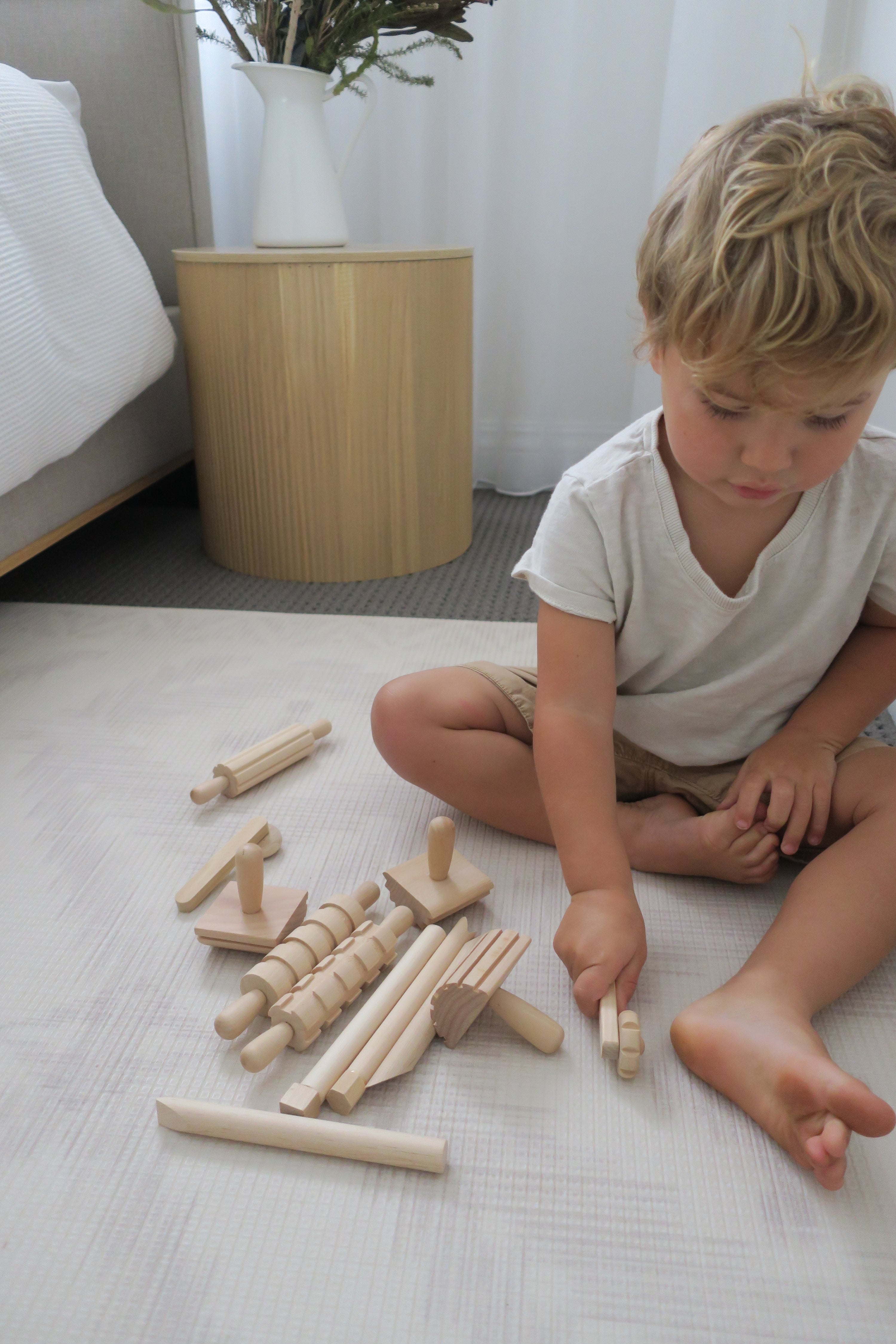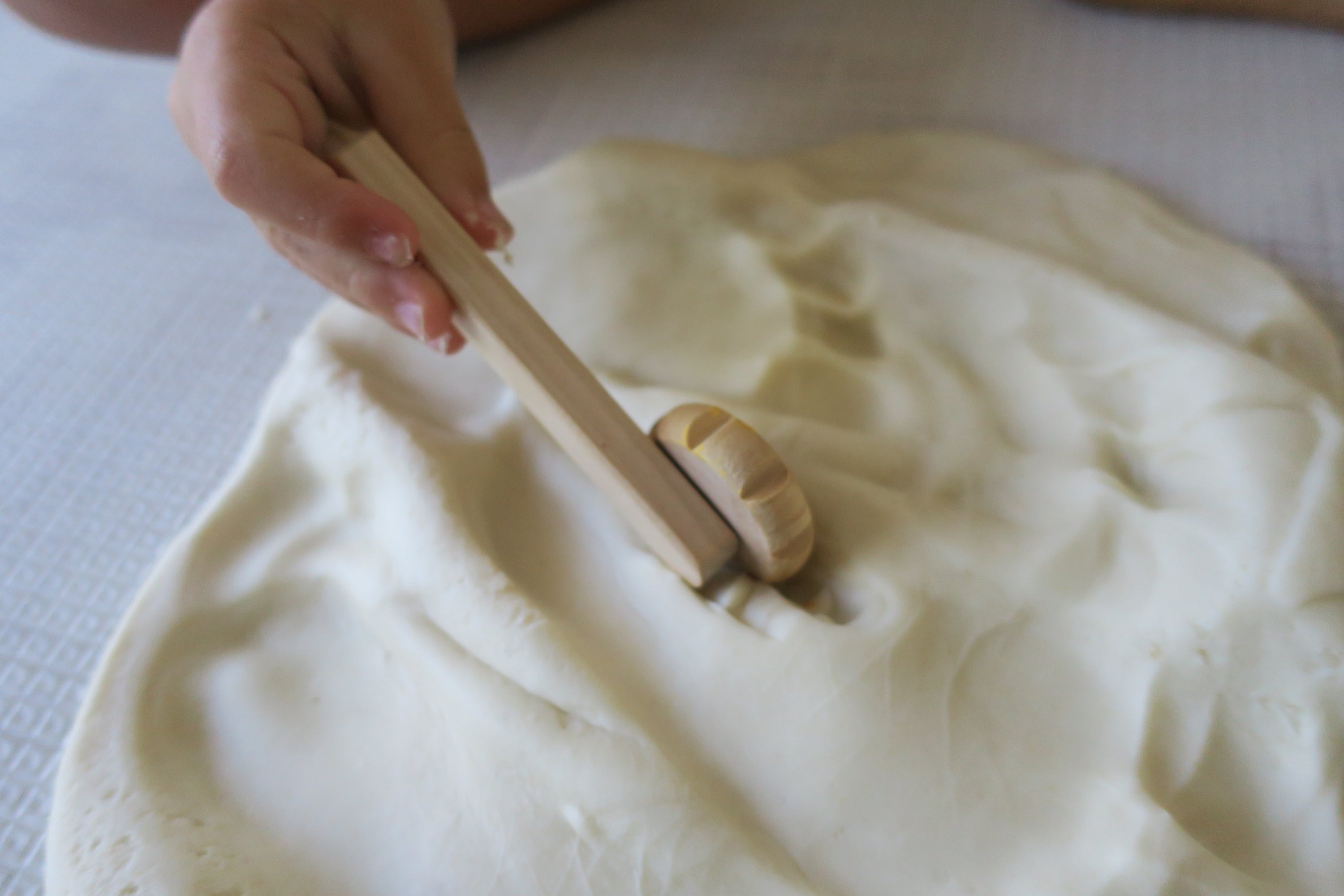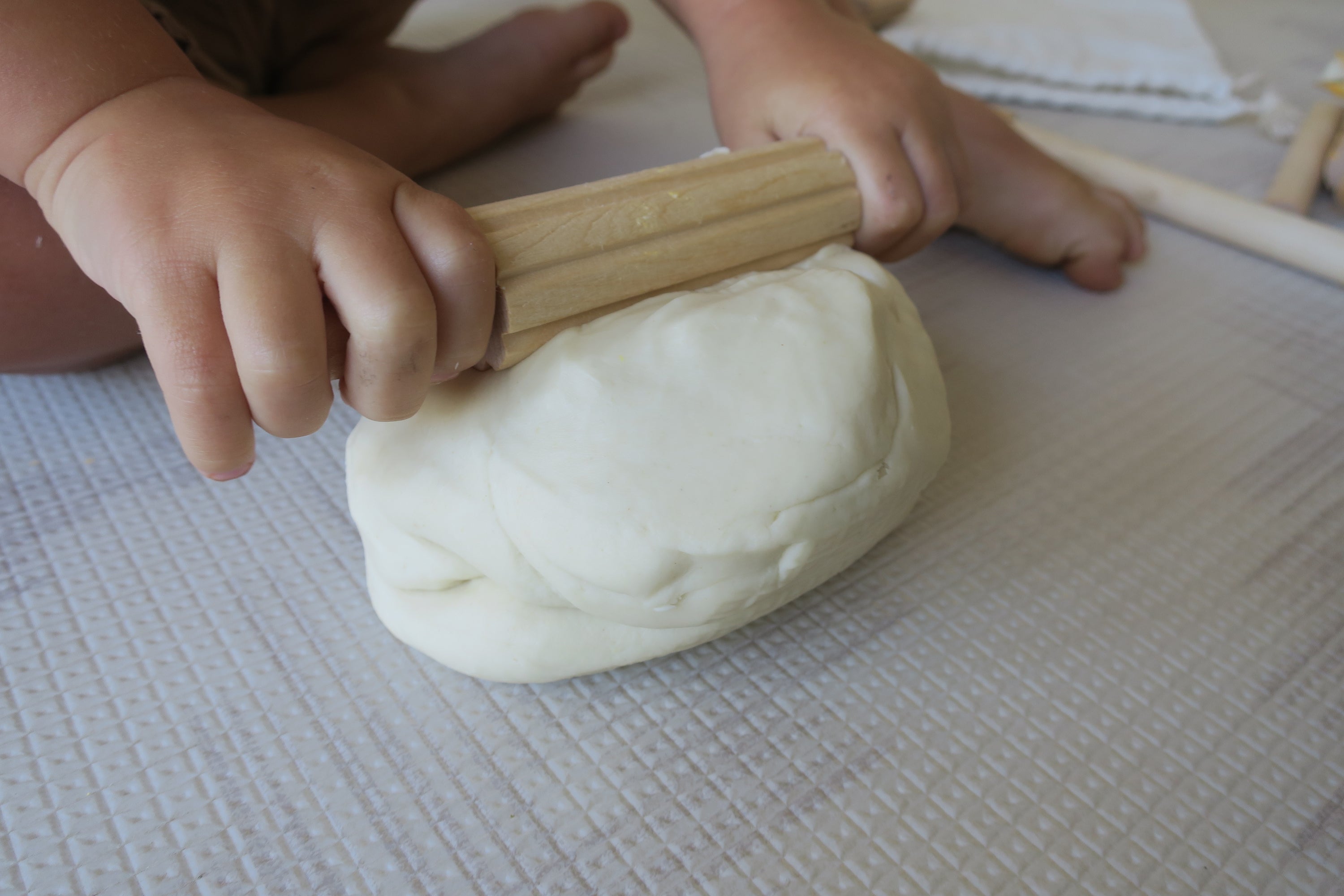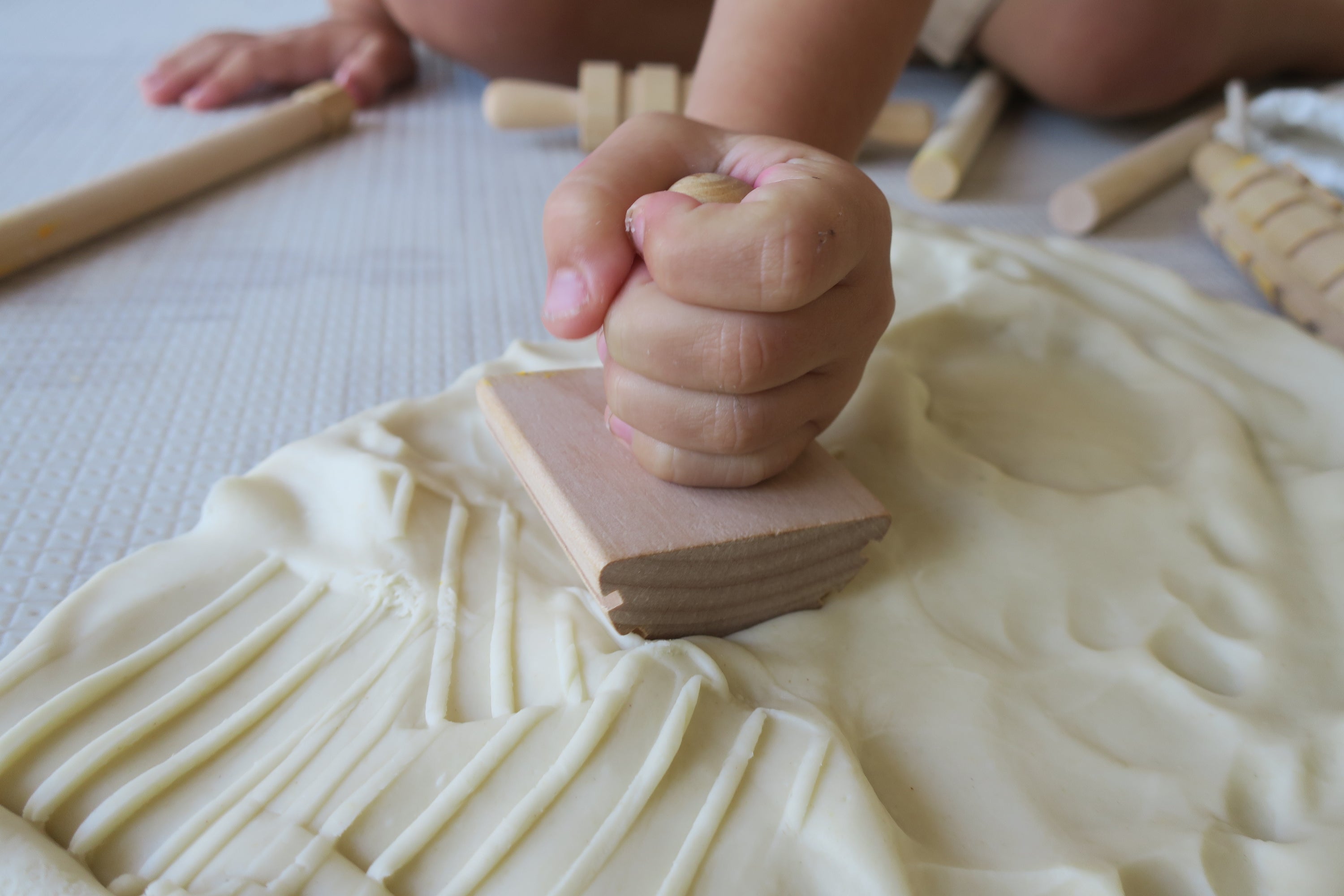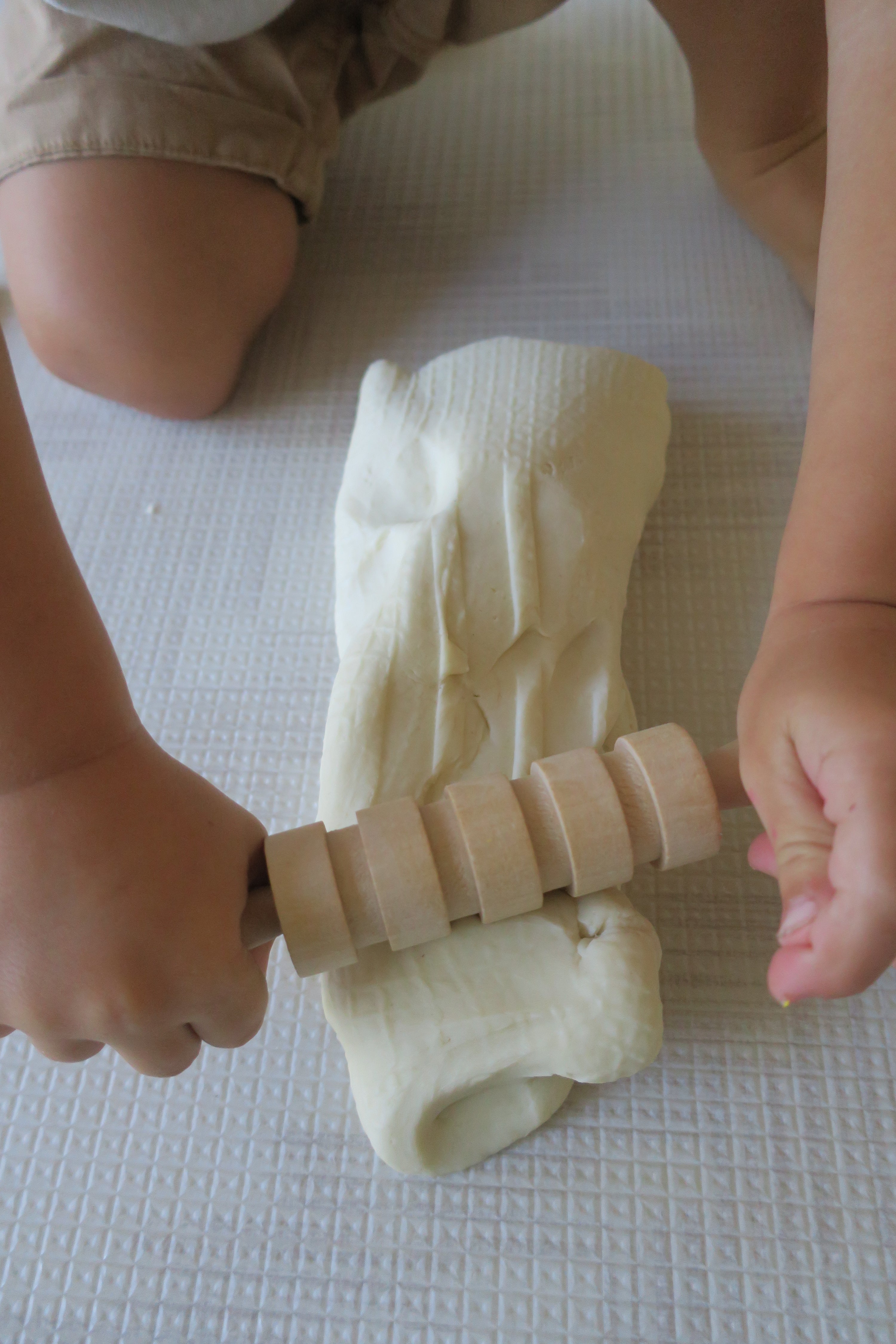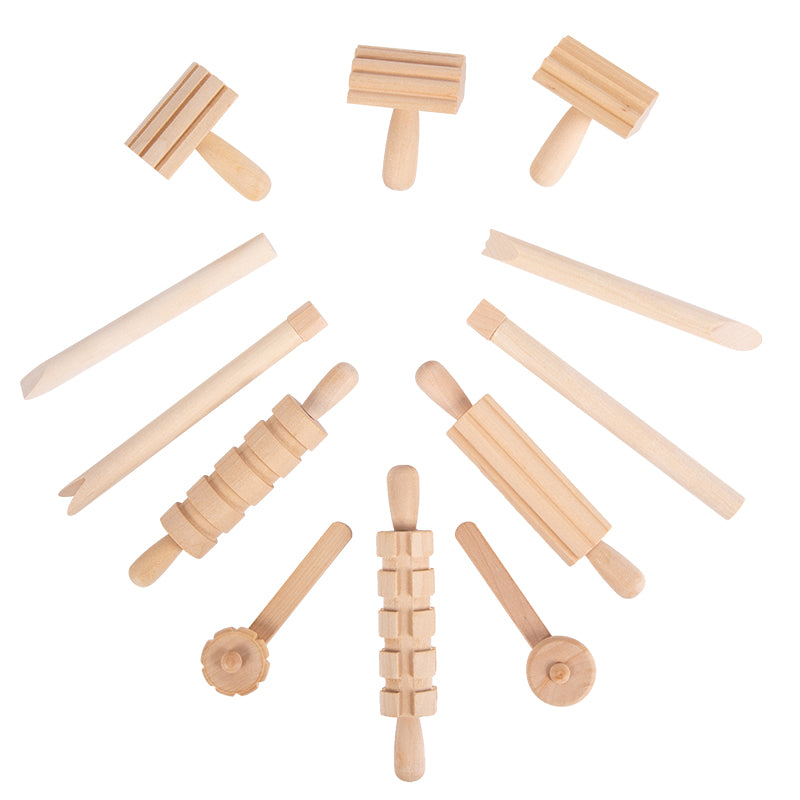 Description
Ignite your little one's imagination with our set of 12 hand crafted Playdough Tools. Provide opportunities for fine motor development and exploration of sensory play while rolling, cutting and stamping.

Hours of open ended, creative play!

Product Features
Set of 12 tools
100% Cotton storage bag
Non-Toxic, Durable
Solid, Natural Beech Wood
Toy Standards Approved 
Hand-eye coordination & Fine Motor Development
Problem Solving
Dimensions
Each tool measures between 10-17cm
Playdough Recipe
Ingredients
2 tbsp cooking oil or coconut oil
4 tbsp cream of Tatar
2 cups plain flour
1 cup salt
Food colouring (food grade only)
2 cups of water
Method
Using a non stick saucepan, combine water and food colouring. Add in remaining ingredients and stir continuously over a low hear until the mixture begins to congeal. Usually 3-4 minutes. Remove from pan and knead on a cool surface until the texture is smooth. It is normal for the dough to be slightly sticky at this stage, as it cools it will congeal further. You may wish to add glitter or a small drop of essential oil at this stage to enlighten the senses. Let the dough cool completely before placing it on your play mat.
Our Teacher Tips
Playdough is used in Early Childhood classrooms as a pre cursor for writing. Develop fine motor muscles, enabling little ones easier control of their pencils, when it comes time. Rolling balls, snakes and noodles are all examples of how to strengthen hand muscles.
FAQ
Does playdough stick to the tools?
When raw the wood can be quite porous. We recommend oiling the sensory tools with a food
grade oil, such as olive oil or coconut oil, before first use. This will make it easier to remove playdough after use and increase the longevity of the tools. It will also create a water resistant barrier.
Are the wooden tools water proof?
We recommend oiling the sensory tools with a food grade oil, such as olive oil or coconut oil, before first use this will create a water resistant barrier, however they are not water proof, therefore dry each tool thoroughly after use with water or wet play. Please be aware that using the tools for water based
play may, over time, give your tools a 'weathered' look. We highly recommend reapplying oil when the wood appears to dry out.
How do I wash the tools after Sensory Play?
A quick rinse and thorough dry, followed by a re-oil is the best way to preserve your tools and keep them looking and feeling new. We recommend removing the bulk of the sensory play material from the tools before allowing to harden or dry to
the wood.
Do the tools give splinters?
Our tools are hand sanded to give a smooth and safe finish. Oiling the tools regularly will increase the lifespan and keep them smooth for little hands to
hold.
Do the tools come with a storage bag?
They do! So once thoroughly cleaned and dried they can be stored either inside your Sensory Tray or in their own cotton carry bag.
What is the best age group for the tools?
This is up to each child and their interest and motor skills. Most two year old's and above will benefit and enjoy these tools. Some children may be ready sooner, some may need a little more time. Please be sure to consider:
1. The gross and fine motor ability of your child.
2. Your childs age- Is my child old enough to sit and not fall forwards or backwards onto the tools? (some have sharper points including the zester and soft edge knife) and; Is my child going to mouth or bite the tools? If so, they are not yet ready for these.
Shop Now, Pay Later with Afterpay!
Warranty
Please inspect your item on delivery, as damage must be reported on opening. All warranty claims require you to inspect your tool set on delivery. 
Shipping
Mikro' Australia ships Australia wide. Shipping times are business days only.
Metro VIC - 2 days
Metro NSW, ACT, SA, QLD, TAS, WA, NT - 3-10 days
Customer Reviews
100
reviewers would recommend this product
Write a Review
02/03/2023
Anthea S.

Australia
I recommend this product
Play dough Tool Set
Absolutely love our natural wooden play dough tools from Mikro. They are so durable and are easy to play with :)