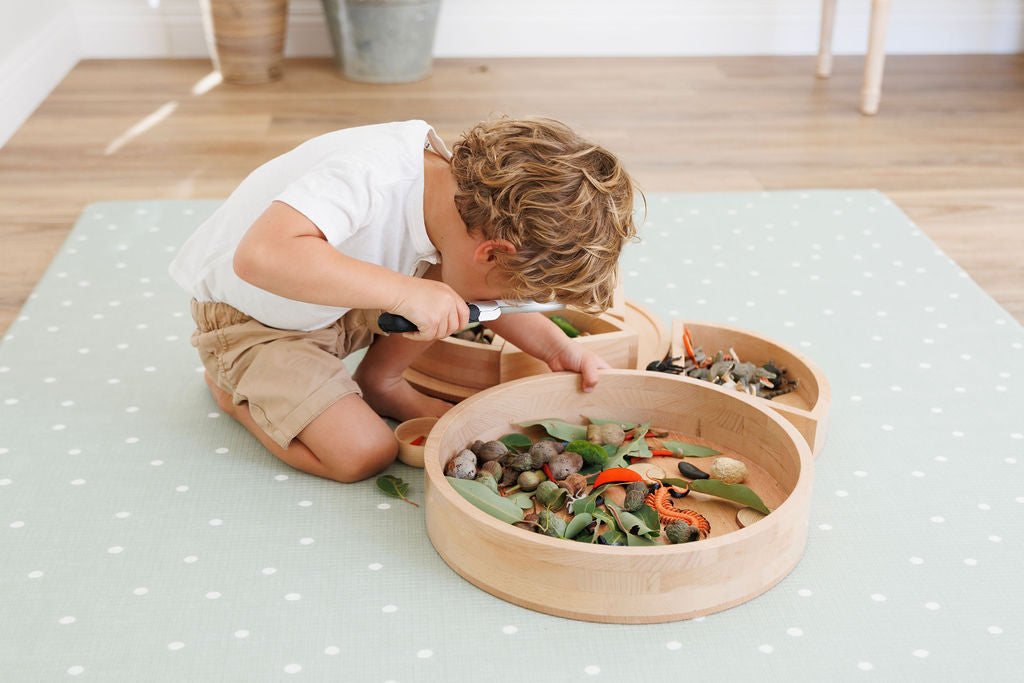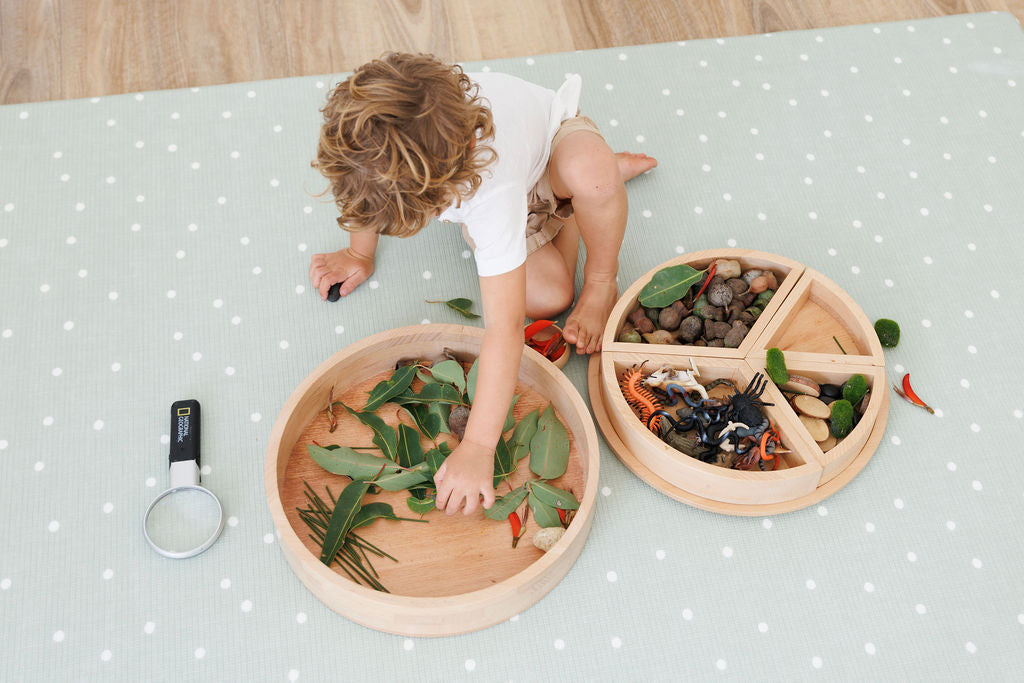 Description
Our Sensory Tray has been designed with physical and cognitive development in mind!

Made from beautifully hand crafted beech wood, our tray is the perfect foundation for sensory play. Easy to set up, store and clean up!
Let your child's imagination run wild! Incorporate rocks, water beads, kinetic sand, sticks or animal figurines-the opportunities are endless.
Our Sensory Tray gives you the flexibility of setting up an invitation to play, that does not need to be 'packed away'. Often children see pack away time as a dismissal of their hard work. The tray incorporates four compartments and a lid that interlock seamlessly, meaning it can be tidied, but not dismantled and ready for use on the next play occasion. 
Stimulating your child's imagination, evoking creativity and enhancing oral language are all key benefits to sensory play and fundamental building blocks for learning.
The Sensory tray is fantastic for small world play, craft, messy play, fine motor development and more!
Why is Sensory Play so important?
Product Features
⠀ Large tray
⠀ Lid/tray 
⠀ 4 removable compartments 
⠀ Non-Toxic, lightly Varnished
⠀ Solid, 100% Beech Wood
⠀ Fine Motor Development
⠀ Problem Solving
Dimensions
Large Tray: 40cm diameter, 7.5cm deep

Lid: 40cm diameter, 2cm deep

Compartments:
2x medium compartments: 18 x 18 x 6cm 
2x large compartments: 18 x 31 x 6 cm
Our Teacher Tips
Create inviting small worlds using the tray and its compartments. Spark your child's imagination by exploring their interest. For example, a fairy garden, a lion king scene, dinosaur world, Antarctica- the ideas are endless. Incorporate materials inside your sensory tray to create a scene and invite your child to use oral language whilst playing. For the older children (ages 4 and above), incorporate a story book, re-create a scene and have your child retell the story. Evoking oral language and increasing vocabulary are all fantastic precursors to writing!

Our fine motor tools (Sensory Tray Tool Kit) are the perfect addition to the Sensory tray!
FAQ
Is the tray waterproof?

The Sensory Tray is coated with a water resistant lacquer that repels liquid for short period of time. It is resistant but not water proof. If choosing to use the wooden tray for water, we recommend it is done so for short periods only.
Importantly, the tray must be thoroughly dried after use.
Please note, a 'weathered' look to the base of the tray will appear over time when liquids are used inside the tray often. When cleaning, we recommend a quick rinse followed by a thorough dry. Do not submerge the wooden tray in hot water.
Once the lid is fitted, is it airtight?

An airtight lid is important for two reasons;
1. The contents of the tray drying up
2. Keeping those creepy crawlies out!
While the tray lid does have a little wiggle room once fitted, it is intended to allow the wood to expand and contract however it is not spacious enough to attract creepy crawlies.
It will keep play dough fresh and play time set for another day! #yay
We do not recommend keeping wet sensory play bases in the tray once play time had concluded as this may be soaked into the joins of the tray and as a result, damage the wood.

How do I clean my Sensory Tray?

We know things get a little (a lot) messy during play time so we hope to ease your clean up just a touch!
For dry play bases we recommend placing the lid back on to store for another day. For wet, sticky, or messier play bases, we advise wiping out any solid materials immediately with paper towel. Following this, a hand rinse under cold water is suggested. To ensure your tray stays in good condition, dry thoroughly using a tea towel removing excess water, ensuring it is dry to touch, before
setting it aside to air-dry further.
How many compartments are on the inside of the tray?

The Sensory tray has a main large tray and four individual inner compartments. These nest inside the main large tray or can be arranged on top of the lid.
Can the lid be used for sensory play too?

Absolutely! The lid is perfect for play-dough; rolling, cutting and kneading because of its flat surface. Every part of the sensory tray can be used, the question is how far will their imagination take them!
If I purchase the Sensory or Play Dough Tools, will they fit inside the Sensory Tray?

They sure do! Pop your tools inside your Mikró storage bag and pop the tray the lid on top! The only tool that is too large to fit inside the main tray is the large rocking cutter, found in the Sensory Tool Kit.
Are there any play based recipes that are not compatible with the Sensory Tray?

There are so many recipes these days for sensory play and really it can be anything found in the cupboard, so testing all variations is near impossible. Therefore, we recommend following three basic guidelines when testing something new.
* Does it fizz, heat or have any other chemical reaction? If yes, spot test in a smaller tray, or line the wooden tray with baking paper, glad wrap or similar before placing 'science' type sensory play inside.
* Do not leave the sensory base in the wooden tray after play time has concluded. Ensure your tray is rinsed thoroughly and dry immediately.
* Be aware and proactive if discolouration patches appear during play. Cease sensory play Immediately and rinse your tray. Dry thoroughly.
Shop Now, Pay Later with Afterpay!
Free Gifts
With every purchase, you will automatically receive bonus downloadable play-based information designed for you by Early Childhood Educators to get the most out of your Sensory Tray!
Warranty
Please inspect your item on delivery, as damage must be reported on opening. All warranty claims require you to inspect your sensory tray on delivery. 
Shipping
Mikro' Australia ships Australia wide. Shipping times are business days only.
Metro VIC - 2 days
Metro NSW, ACT, SA, QLD, TAS, WA, NT - 3-10 days
Customer Reviews
100
reviewers would recommend this product
Write a Review
I recommend this product
A new staple in playroom!
Such a wonderful and well thought out product! The tray is so versatile and can be used for so many different activities! The different size trays make it amazing for a heap of activities! I also love that it all fits together for easy storage!