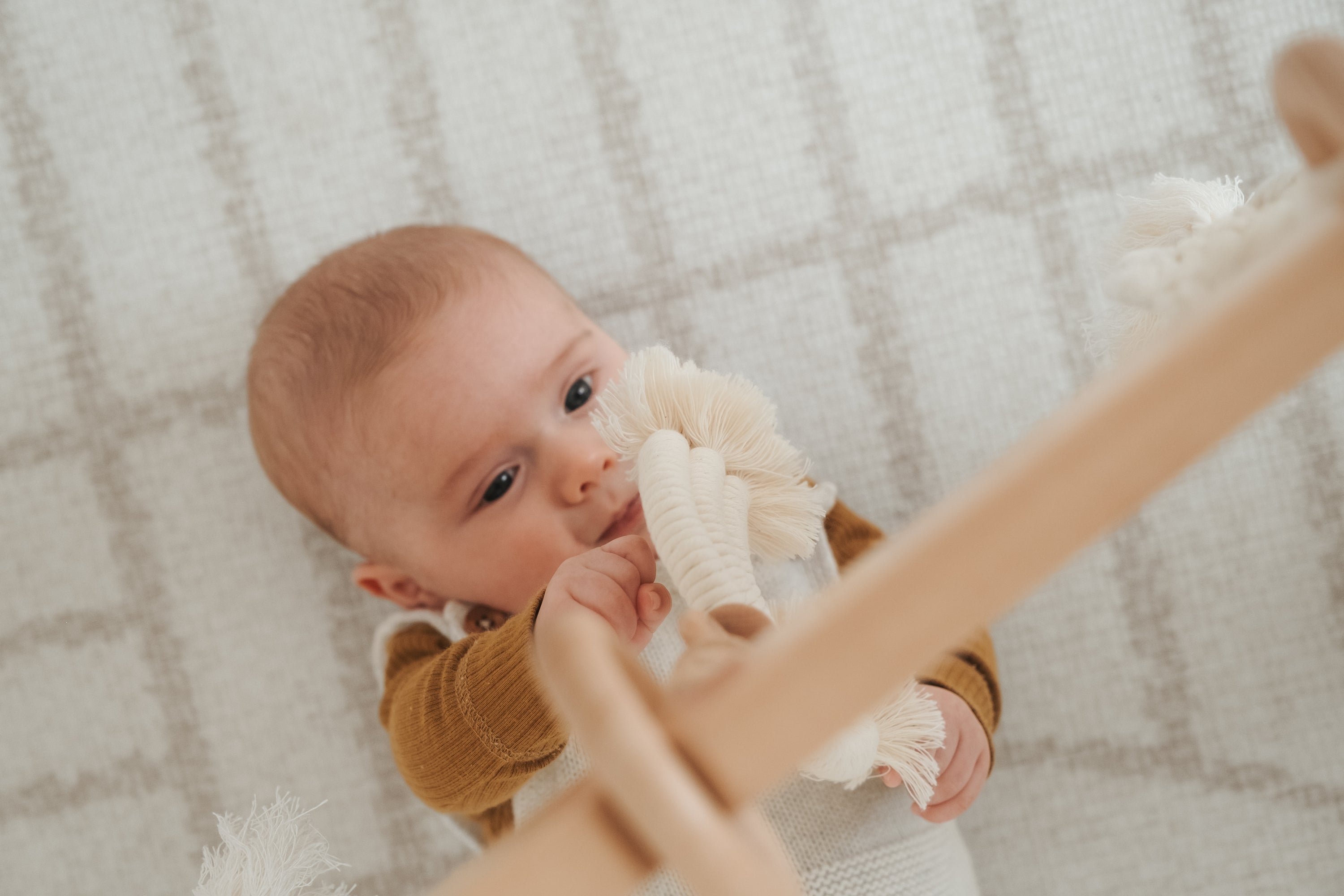 Description
Our Early Learning Toy Bar has been designed with physical and cognitive development in mind.

Made from beautifully crafted solid beech wood. Each toy bar includes a three piece bespoke macrame toy set, made with soft cotton.
As new babies experience a buzz of visual stimulation, their eyes work together with the primary focus being on objects 20-25cm from their face. They will enjoy investigating familiar faces and enjoy play time under our three piece macrame toy bar. At around three months of age, baby will begin to follow moving objects with their eyes and reach for things as eye-hand coordination begins to develop.
Why is our macrame toy set made from a creamy coloured cotton? At birth, babies can only see black, white and grey. At around five months, your baby will be able to distinguish between colours and focus on smaller objects. The removable pin included on our toy bar design allows you to add new, visually stimulating toys with ease from 5 months and beyond. 
Product Features
x3 Macrame Toys (slight variations in colour-handmade item)
Non –Toxic, lightly varnished
Toy standards approved EN-71
Solid Wooden Frame- 100% Beech Wood
Durable, lightweight 
Removable pin for simple storage and/or adding toys with ease
Hand-eye coordination & Visual Stimulation 
* Adult supervision required at all times. Please do not leave your baby unattended. Mikró Australia take no responsibility for accidents or injuries associated with failure to follow safety instructions. Not suitable for babies beginning to pull up. Please store away.  
Dimensions
73cm Long (suitable for twins)
50cm High
Weight - 3kg
FAQ
What is the size of the Early Learning Toy Bar?
73cm Long (suitable for twins)
50cm High
Weight- 3kg
How do I comb the Toys?
Its very easy. Firmly hold the top and using a small comb gently brush downwards until the cotton separates and 'fluffs' up.
Can the Toys be changed?
Absolutely! We have designed our Toy Bar to completely dissemble enabling you to add and subtract toys for bubs interest! We have included a set of visually intricate cotton toys however they can be stowed away for the next bub once your little ones interest has shifted.  
How do I clean the Early Learning Toy Bar?
We recommend wiping the beech wood stand with a warm cloth and dishwashing liquid. A gentle spot clean for the cotton toys with a baby safe washing detergent.
What is the Early Learning Toy Bar made from?
Our Early Learning Toy Bar is made from non-toxic, lightly varnished Beech Wood. It has 3 gorgeous toys made from 100% Cotton. 
I can't manage to assemble the Toy Bar.
Each Toy Bar is hand made which makes for a stunning finish however, this does mean that they may need some extra care when assembling. If you find that the leg or pin does not go in with ease, simply swap the pieces to the alternative side. Laying the legs on the side and gently pushing the centre bar into the square opening helps to achieve a nice snug fit. 
I am not in love, may I refund or exchange?
Yes of course! We want our customers to be happy with their purchase and so we offer 100% money back guarantee on our products. If you are returning for an exchange, shipping costs will incur. To read more, follow the link to our Warranty, Refunds and Returns page.
Shop Now, Pay Later with Afterpay!
Free Gifts
With every purchase, you will automatically receive bonus downloadable play-based information designed for you by Early Childhood Educators, to get the most out of your Early Learning Toy Bar.
Warranty
Please inspect your item on delivery, as damage must be reported on opening. All warranty claims require you to inspect your Early Learning Toy Bar on delivery.
Shipping
Mikro' Australia ships Australia wide. Shipping times are business days only.
Metro VIC - 2 days
Metro NSW, ACT, SA, QLD, TAS, WA, NT - 3-10 days
You will be notified once your item has left Mikro' Australia HQ with a tracking number.
Customer Reviews
100
reviewers would recommend this product
Write a Review
07/15/2022
Cas

Australia
I recommend this product
Beautiful early learning bar
Amazing quality learning bar. The wooden stand feels sturdy and I am not worried about it falling over when our baby pulls on the attachments. We just received it this week and have already gotten hours of use out of it.
10/02/2021
kelly p.

Australia
I recommend this product
Kelly Parnaby:Early learning toy bar
Received item packaged beautifully in a quality drawstring bag. The toy bar and macrame toys are of highest quality. I bought a play bar from a different company payed more and nowhere near the quality. Definitely highly recommend
10/11/2021
Mikro' Australia
Thank you for the glowing review Kelly. We are so happy to hear you absoltuely love it!
08/11/2021
Roselene B.

Australia
I recommend this product
It's designed beautifully and my son loves it
08/13/2021
Mikro' Australia