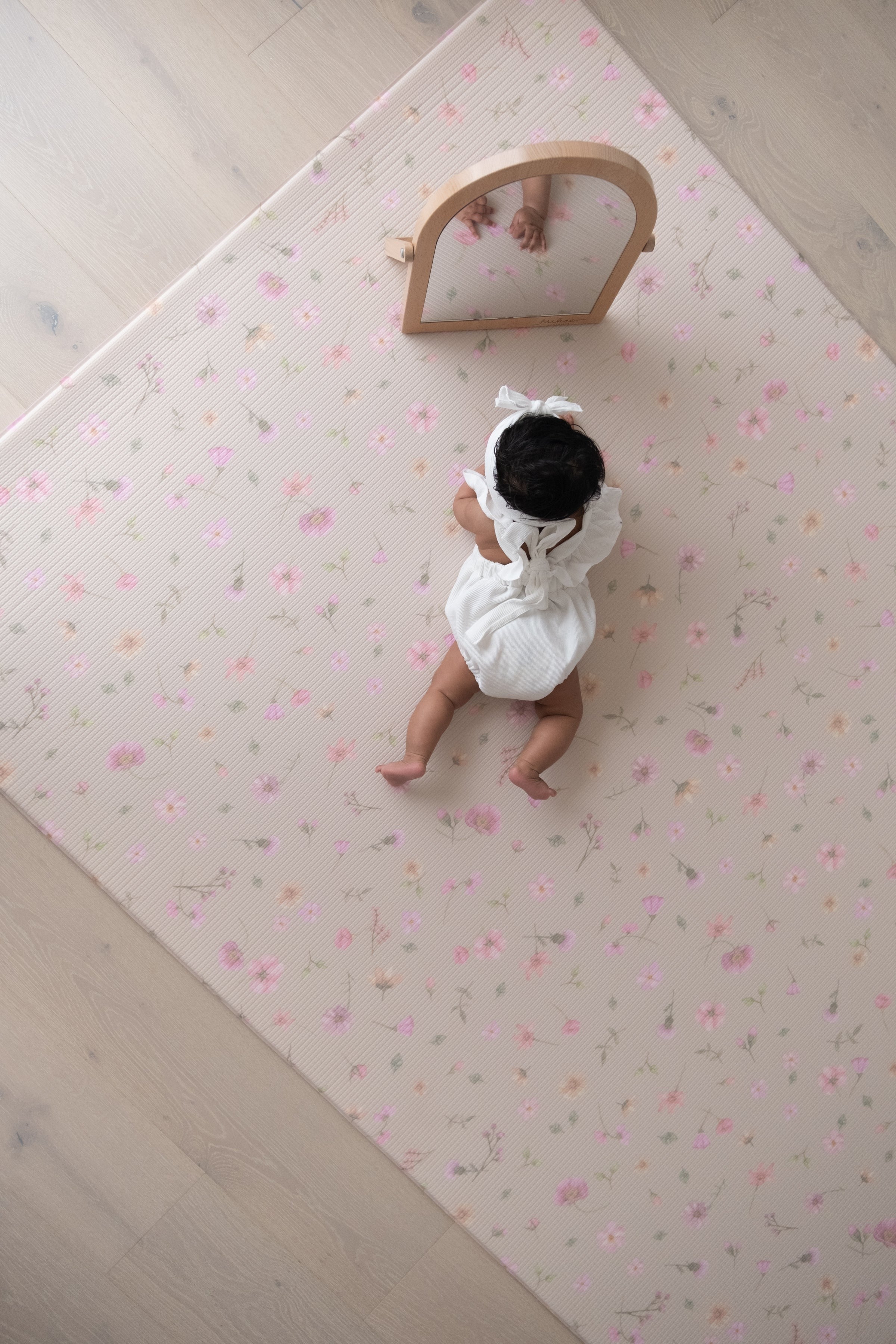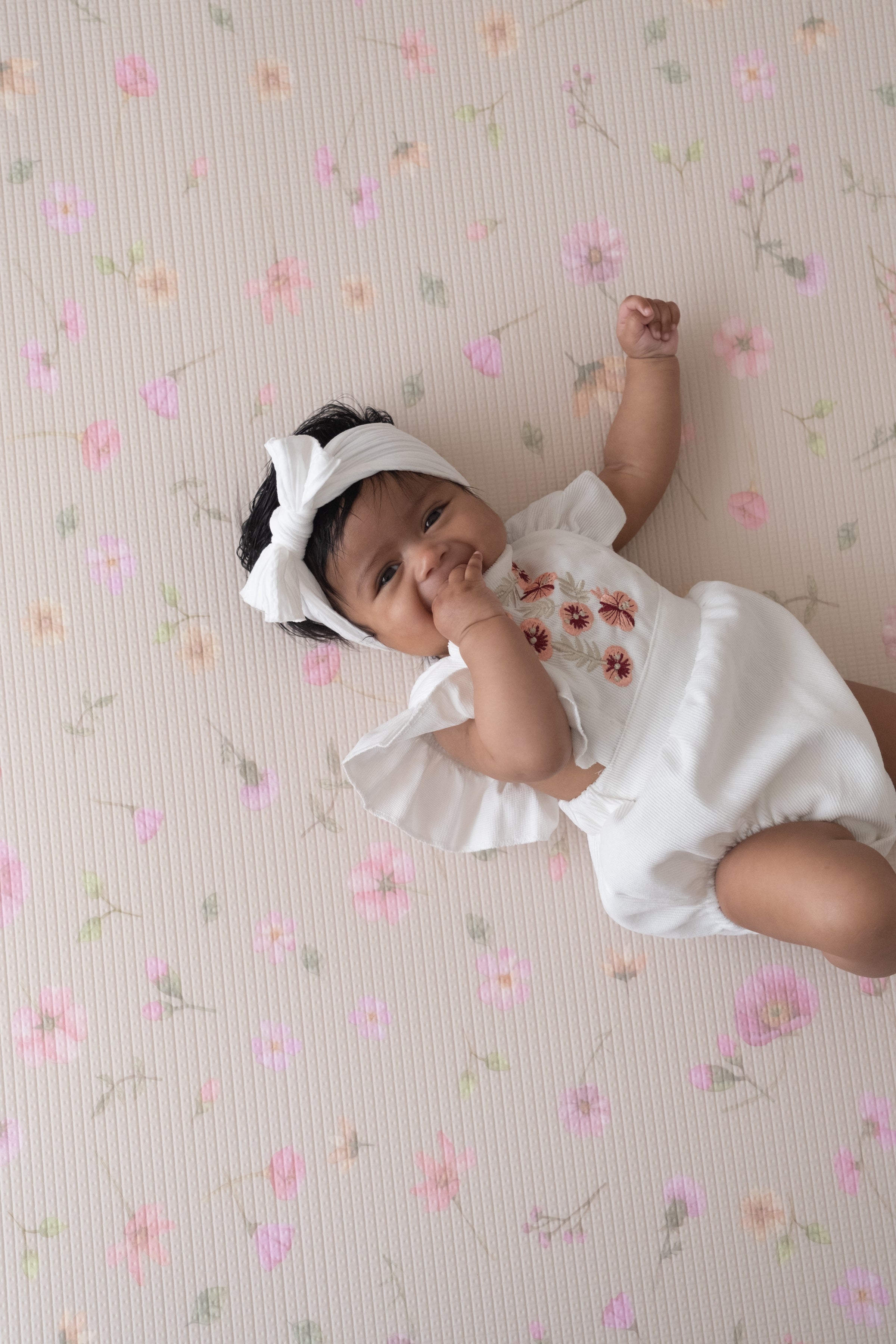 Description
Simply Stunning!
This beautiful design features magical floating flowers, hand painted by the exceptionally talented, Danella Gillard from Sailah Lane Designs. The gentle water colour display of pink and yellow flowers are dispersed across a soft beige backdrop.
To complete your look why not head to Danella's website and purchase some of her matching wall stickers. 
Click here to SHOP!
Our play mats are reversible giving you the flexibility of two completely different looks. On the reverse of this design is our Textured Pink Confetti.

Product Features
Non –toxic
Toy standards approved
Reversible contemporary designs
1.5cm thick foam core
Durable, water and scratch resistant outer coating
Easy to clean surface, wipe away bacteria
Lightweight
Newborn comfort during tummy time
Supports growing knees and wrists
Absorbs impact for the falls, trips and toys
Soft mat for play based learning
Perfect for the whole family
Sizing
All sizes are 1.5cm in thickness

Small - 1m x 1.4m 
Perfect size for a newborn or enough room for two children engaging in floor activities.  
Easily transportable
Round - 1.4m diameter 
Comfortably fits 2 children for floor activities 
Great size for a tepee, playroom or lounge
Family - 2m x 1.4m 
Comfortably fits four children for floor activities or a whole family for story time 
Great size for playroom or lounge
Newborn Bundle
Our beautifully crafted beech wooden toy bar and squishy play mat make the perfect bundle for your little one to reach those development milestones. 
Bundle Includes:
Round Play Mat- 1.4m Diameter
Toy Bar-73cm Long, 50cm High (suitable for twins) inclusive of x3 Macramé Toys (slight variations in colour-handmade item)
FAQ
What are your play mats made from?
Our play mats are made from a Polyurethane foam. The material is non-toxic, light and biodegradable, yet durable. It is BPA and PVC free. They have passed European Toy Standard testing (EN 71) which makes them one of the safest children's play mats on the market!
For those of you who would like to make a more thorough review, please click on the link provided to view our test report - Mikro' Australia Test Report
What can I clean my play mat with?
We recommend using water and a clean soft cloth. Should a deeper clean be desired premixing a conservative amount of a natural, gentle dishwashing detergent with warm water is advised
Do not use any harsh chemicals, spray and wipes or baby wet ones as this will damage the outer layer of your play mat. It will remove the colour coating and appear as a white mark.
Can I use my play mat outside?
Of course! However, do not leave your play mat in direct sunlight as this will deteriorate the design. If you do take your play mat outside regularly, expect a slight discolouration to occur. It has been designed for indoor use but can be enjoyed on the odd occasion outdoors. 
Are the play mats suitable for pets. I'm worried they will damage it?
For most households with pets they can be utilised as intended wihtout hindrence from your four legged friends. Just like most, if not all, the baby items in your house, they will not withstand destructive pets. If your pet is likely to urinate on the play mat, we believe this isn't a product for you, as we can not guarantee a clean, safe surface for your baby. The play mats are made fom foam and so pets that are likely to chew, claw or play tug of war with the mat will damage the item.
My play mats edges are curled, when will it flatten?
Once unpacked, the play mats edges naturally curl as it has been rolled tightly and packaged. It may also have some crease lines but rest assure it does settle flat. To make the process a little quicker here are a couple of handy tips you may like to try!
Use the mat on the reverse side (curling down) until the mat settles. This can take some time, using it whilst face down will help soften the foam.
Roll the play mat, tightly in the reverse direction to how it was packaged, use the elastic straps provided to hold it in position and leave it over night or longer, if possible. You may like to use two people to roll the family size in order to get a tight roll particularly on the first edge.
I'm not in love with my play mat, may I refund or exchange?
Yes of course! We want our customers to be happy with their purchase and so we offer 100% money back guarantee on our products. If you are returning for an exchange, shipping costs will incur. To read more, follow the link to our Warranty, Refunds and Returns page. 
Important: A refund is not possible prior to shipment however, a change of design is accepted if time permits before dispatch. A refund is not permitted for delayed shipping. 
If I purchase two will they align to create one large mat?
Yes absolutely however, we highly recommend purchasing two at the same time as slight colour variations do occur with age and between batch productions.
My Play mat is new but has creases on its surfaces. Is this a fault?
Once unrolled you may notice creases on the play mats surface. This is due to being tightly rolled for packaging and is completely normal. In no time the creases will disappear. Use of the play mat will encourage this process.
My play mat is new and has a an indendation on the surface of the mat. Is this normal?
The small indentation is caused from the seam on the Mikro' elastic strap and is very common. This will "pop" out in no time at all!
My play mat appears to have discoloured edges and surface, is this normal?
PU is a biodegradable, non toxic foam and it is within its nature to discolour slightly. We refrain from using colour stabilisers to ensure our play mats are free from harsh chemicals. You may notice slight yellowing along the play mats edges and in areas where there may be white, this is considered normal behaviour for our eco friendly foam. Heat and exposure to sunlight will encourage this process. Leave the play mat out of direct sunlight when not in use and refrain from using it outside in extreme temperatures. This process is more apparent on the lighter coloured play mats.
Shop Now, Pay Later with Afterpay!
Free Gifts
With every purchase, you will automatically receive bonus downloadable play-based information designed for you to get the most out of your play mat!
Warranty
Mikró Australia offers a 6 month warranty on play mats and play bars. Imperfections deemed the responsibility of the manufacturer are covered and must be reported to us by email hello@mikroaustralia.com.au immediately. Wear and tear marks are not covered under warranty. 
Our play mats must be cared for using the instructions included with your item. They must be followed to avoid damage to the product. Incorrect use of the play mat and failure to follow care instructions will void your warranty. A puncture or hole to the foam is not a manufacturing fault and will be deemed as wear and tear.
 ** Please thoroughly look over your purchase immediately, upon opening. Report any imperfections within 48 hours post delivery ** 
Shipping
Mikro' Australia ships Australia wide. Shipping times are business days only.
Metro VIC, NSW, ACT and SA - 2 -3 days
Metro QLD, TAS - 3-4 days
Metro WA, NT - 10-14 days
Regional areas: 14-21 days
Remote areas: 14-21 days
You will be notified once your item has left Mikro' Australia HQ with a tracking number.