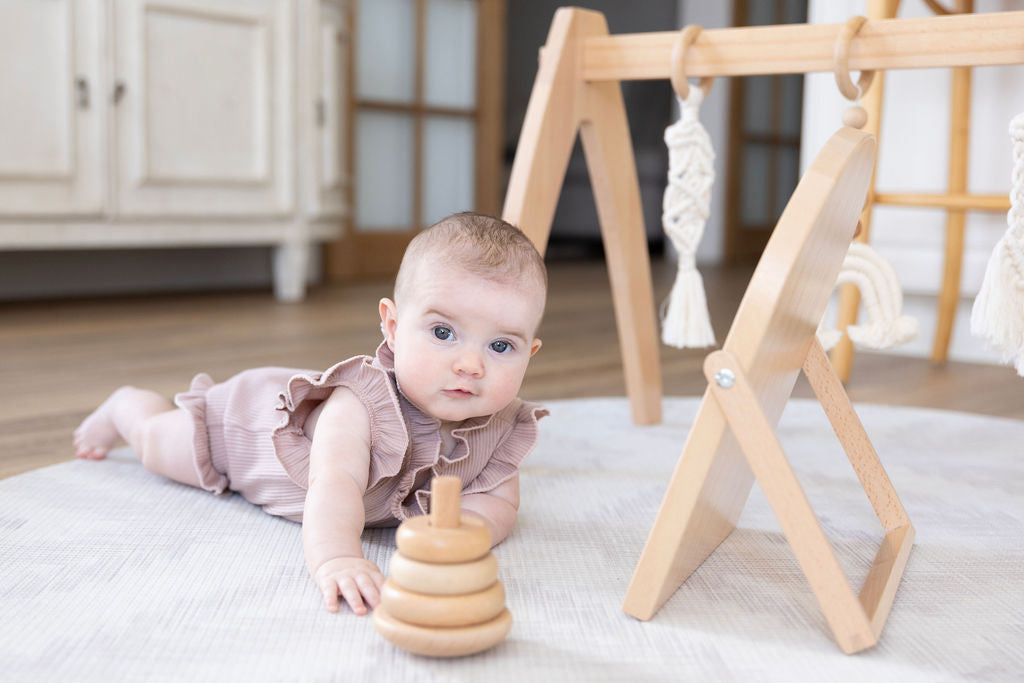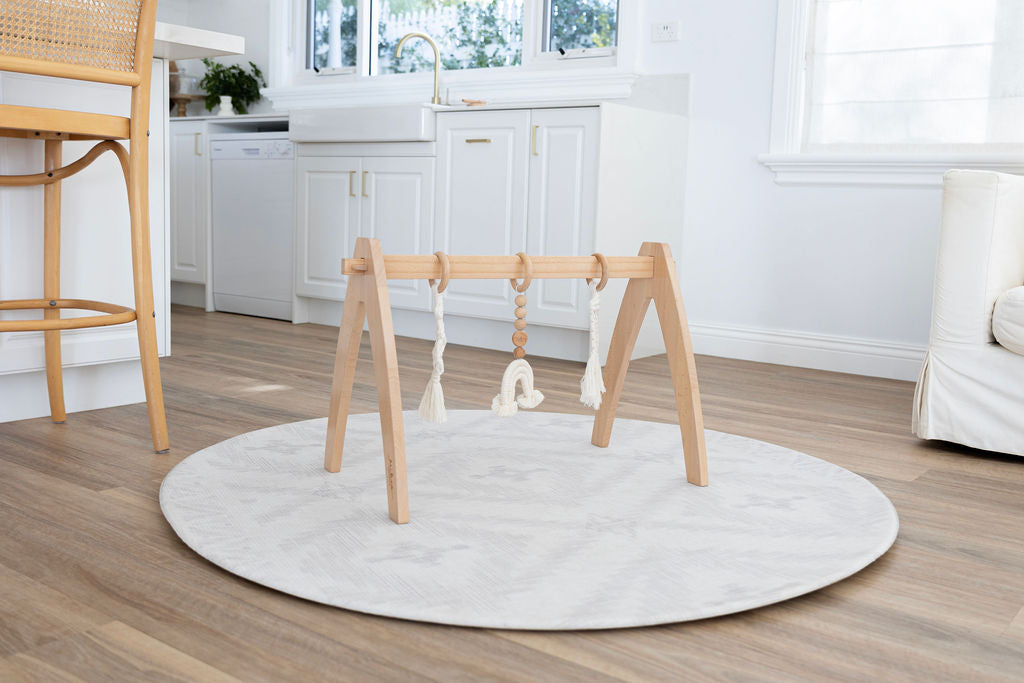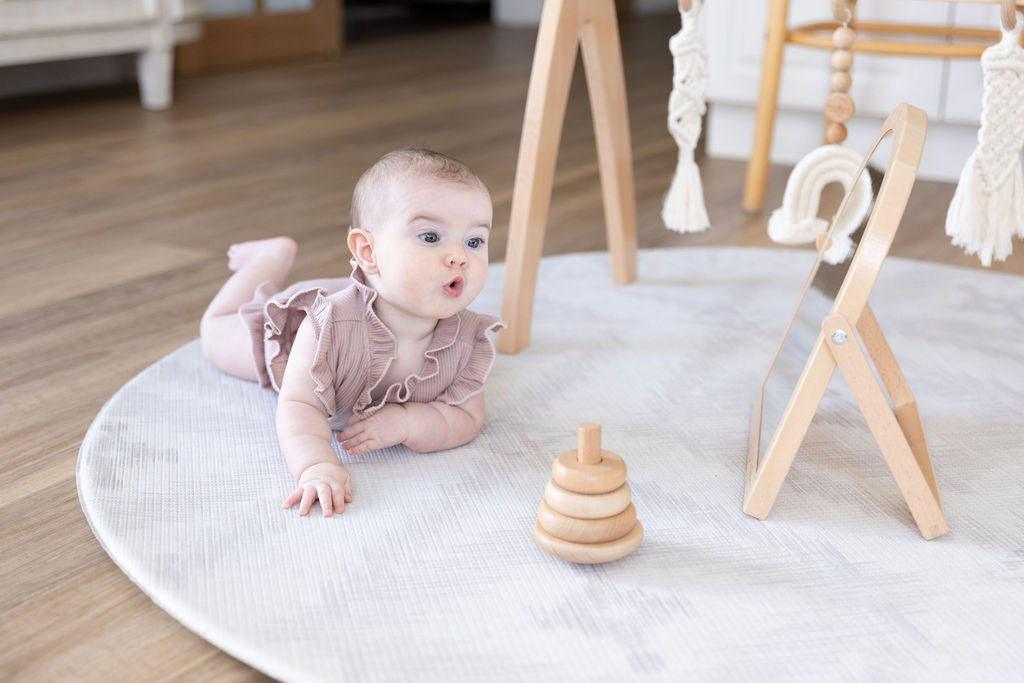 Ultimate Baby Shower Gift
Description
This thoughtfully curated bundle combines a reversible round padded play mat, an early learning toy bar, and a tummy time mirror, all aimed at providing endless moments of joy and developmental growth for your little one.
 VALUED AT $385.97
Included in your Gift:
Round Play Mat - Where Comfort Meets Adventure
Choose a design from our plush round play mat range. Made with premium materials, our play mat offers a comfortable and secure space for your baby to roll, crawl, and explore as they embark on their journey of growth.
Early Learning Toy Bar - Sparking Early Curiosity
Nurture your baby's cognitive development with our interactive early learning toy bar. Made from beautifully crafted solid beech wood. Each toy bar includes a three-piece bespoke macrame toy set, made with soft cotton.
Tummy Time Mirror - Reflections of Growth
Witness the magic of tummy time as your little one gazes into our tummy time mirror. Specially designed to promote visual tracking and strengthen neck muscles, the mirror reflects not just a cute baby, but a world of potential and growth.
The Perfect Baby Shower Gift
Our Ultimate Baby Shower Gift is more than just a gift; it's a bundle of joy, discovery, and growth. Whether you're a doting friend, a family member, or an expecting parent, this all-inclusive package is a testament to your heartfelt wishes as baby embarks on a journey of exploration.
Product Features
Toy Bar
x3 Macrame Toys (slight variations in colour-handmade item)
Non –Toxic, lightly varnished
Toy standards approved EN-71
Solid Wooden Frame- 100% Beech Wood
Durable, lightweight 
Removable pin for simple storage and/or adding toys with ease.
Cotton carry bag
Mirror 
Non –Toxic, lightly varnished
Toy standards approved EN-71
Solid Wooden Frame - 100% Beech Wood
Durable, lightweight 
Collapsible stand
Cotton carry bag
Round Play Mat
Non –toxic
Toy standards approved
Reversible contemporary designs
1.5cm thick foam core
Durable, water and scratch resistant outer coating
Easy to clean surface, wipe away bacteria
Lightweight
Newborn comfort during tummy time
Supports growing knees and wrists
Absorbs impact for the falls, trips and toys
* Adult supervision required at all times. Please do not leave your baby unattended. Mikró Australia take no responsibility for accidents or injuries associated with failure to follow safety instructions. Not suitable for babies beginning to pull up. Please store away.
Dimensions
Round Play Mat
1.4m diameter -Comfortably fits 2 children for floor activities.
Mirror
32cm wide
36cm High
Weight - 1.46kg
Early Learning Toy Bar
73cm Long (suitable for twins)
50cm High
Weight - 3kg
FAQ
I can't manage to assemble the Toy Bar.
Each Toy Bar is handmade which makes for a stunning finish however, this does mean that they may need some extra care when assembling. If you find that the leg or pin does not go in with ease, simply swap the pieces to the alternative side. Laying the legs on the side and gently pushing the centre bar into the square opening helps to achieve a nice snug fit. 
How do I comb the Toys?
It's very easy. Firmly hold the top and using a small comb gently brush downwards until the cotton separates and 'fluffs' up.
Can the Toys be changed?
Absolutely! We have designed our Toy Bar to completely dissemble enabling you to add and subtract toys for bubs interest! We have included a set of visually intricate cotton toys however they can be stowed away for the next bub once your little ones interest has shifted.  
How do I clean the Early Learning Toy Bar?
We recommend wiping the beech wood stand with a warm cloth and dishwashing liquid. A gentle spot clean for the cotton toys with a baby safe washing detergent.
How do I clean the Tummy Time?
We recommend wiping the beech wood stand with a warm cloth and dishwashing liquid. A general, Non-toxic Glass gleaner and paper towel will remove handprints or baby kisses from the mirror.
What can I clean my play mat with?
We recommend using a natural, gentle cleaner such as dishwashing detergent and a clean, soft cloth.
Do not use any harsh chemicals as this will damage the outer layer of your play mat.
Shop Now, Pay Later with Afterpay!
Ultimate Baby Shower Gift
Shipping
Mikro' Australia ships Australia wide. Shipping times are business days only.
Metro VIC - 2 days
Metro NSW, ACT, SA, QLD, TAS, WA, NT - 3-10 days
You will be notified once your item has left Mikro' Australia HQ with a tracking number.
Warranty
Mikró Australia offers a 6 month warranty on play mats and play bars. Imperfections deemed the responsibility of the manufacturer are covered and must be reported to us by email hello@mikroaustralia.com.au immediately. Wear and tear marks are not covered under warranty. 
Our play mats must be cared for using the instructions included with your item. They must be followed to avoid damage to the product. Incorrect use of the play mat and failure to follow care instructions will void your warranty. A puncture or hole to the foam is not a manufacturing fault and will be deemed as wear and tear.
 ** Please thoroughly look over your purchase immediately, upon opening. Report any imperfections within 48 hours post delivery **