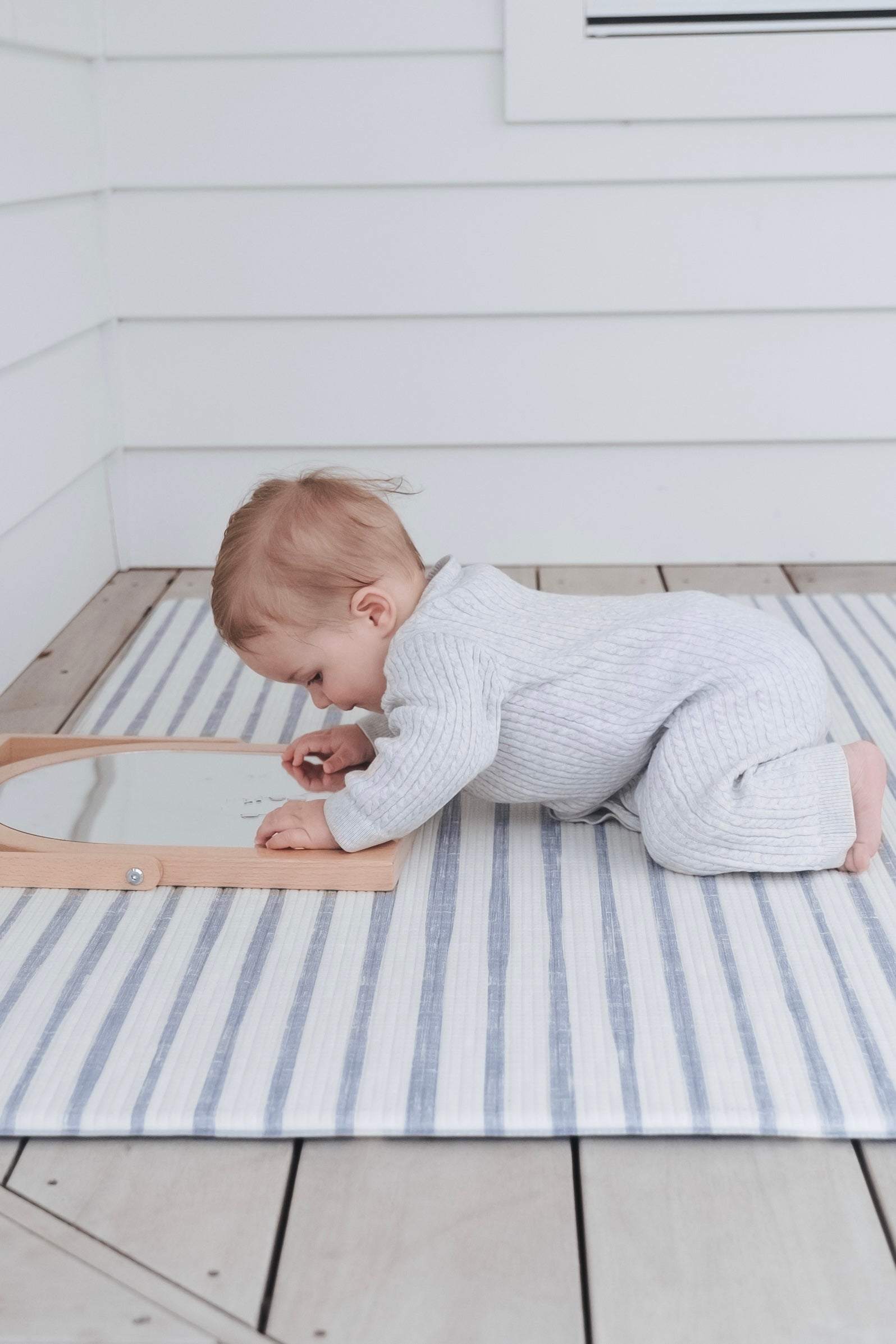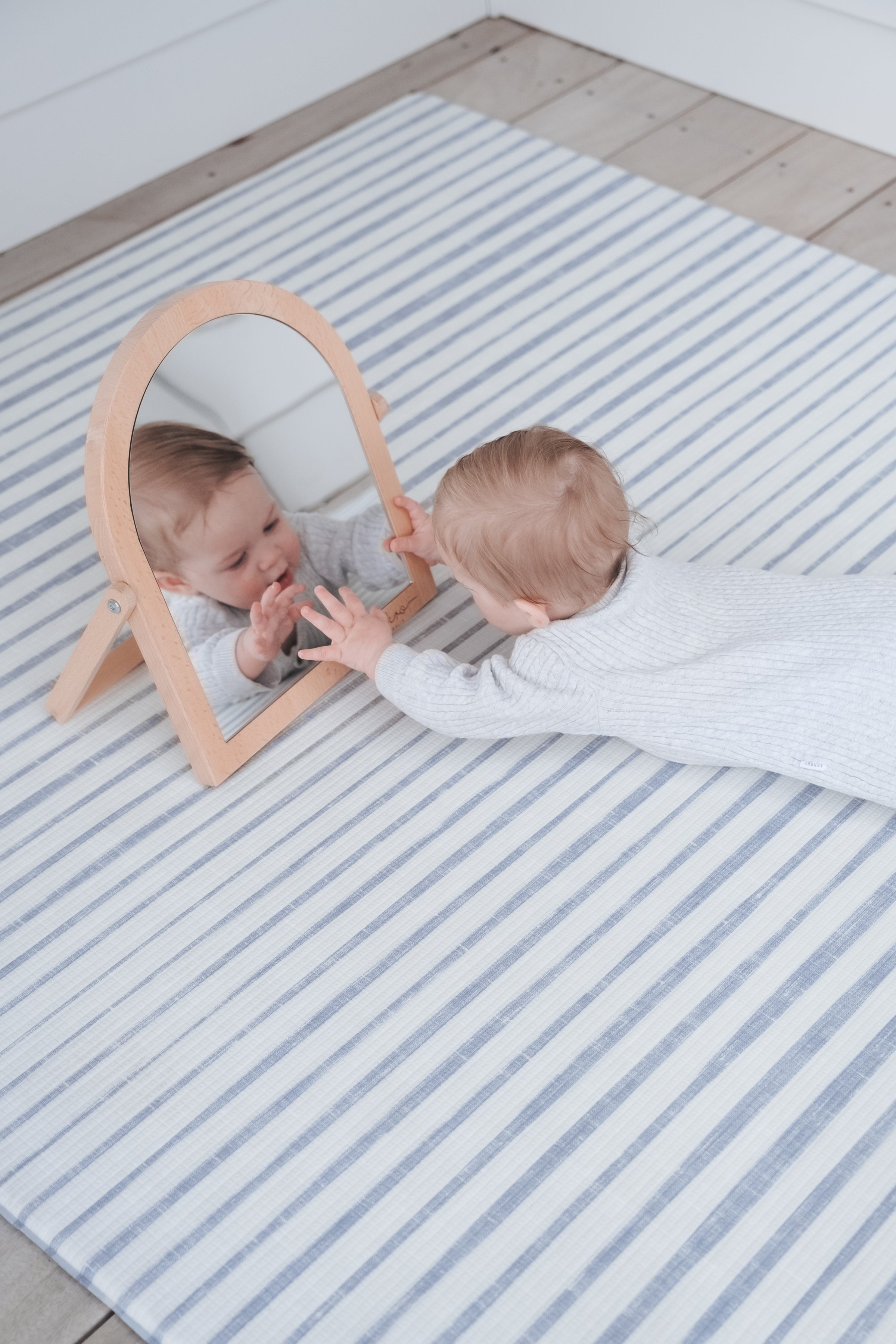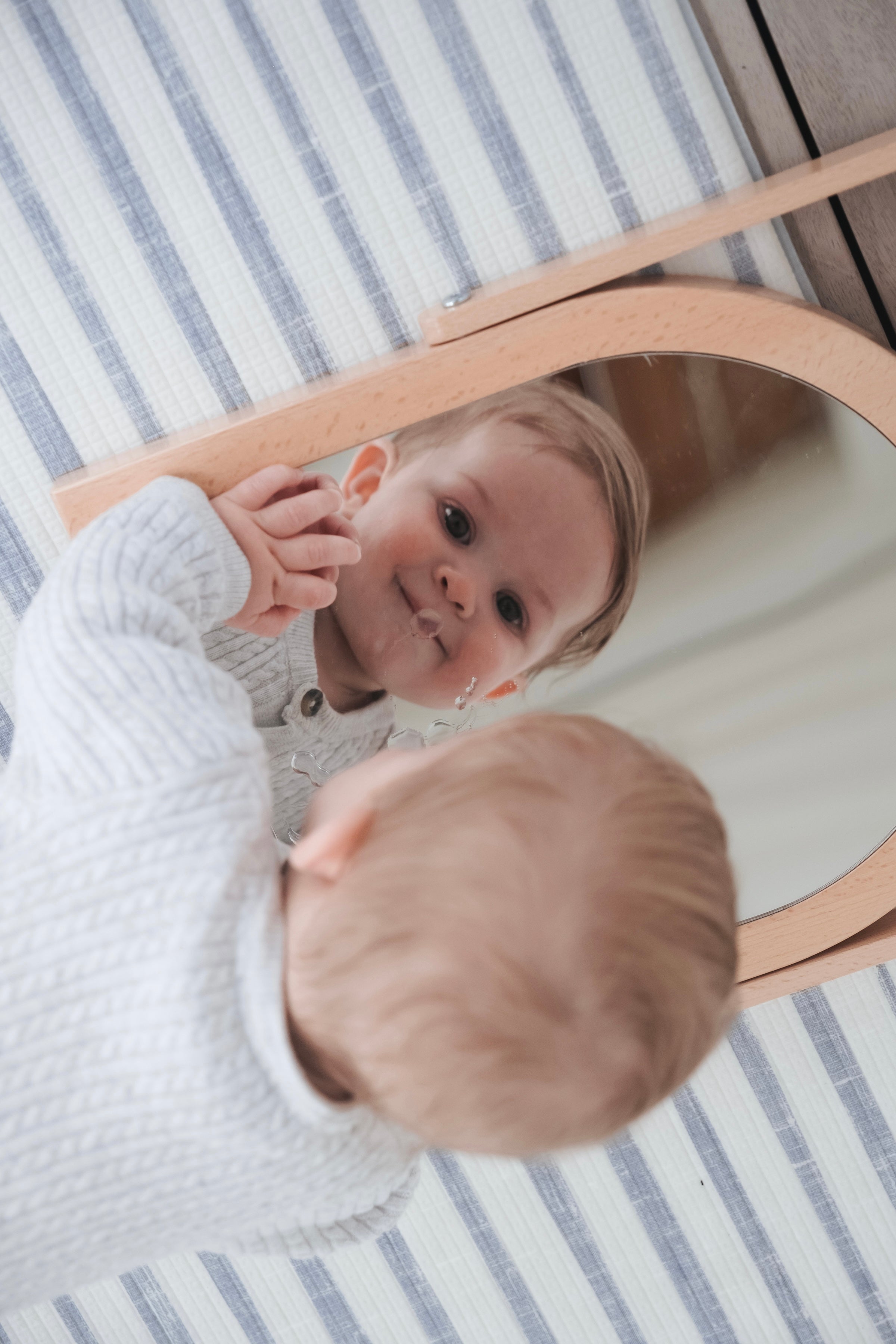 Description
 Our Tummy Time Mirror has been designed with physical and cognitive development in mind.
Made from beautifully crafted solid beech wood. Each mirror includes a cotton carry bag for storage and protection.
Our Tummy Time mirror is a timeless gift for baby. It has been purposefully designed to angle low in order to catch playful smirks and chunky cheeked reflections. An acrylic embedded mirror has been used as babies safety is of the utmost importance. A foldable stand enables the mirror to be propped up or laid down and placed under babies chin. For babies who cry in protest every time they're placed belly-down, propping a safe mirror in front of them may catch and hold their interest for tear-free tummy time.
Our Mirror is a way for your child to develop self-awareness and nurtures their social-emotional development. Your baby will begin to recognise that they are seeing their own face in the mirror. Mirrors spark curiosity and motivate your little ones to learn and practice skills such as tummy time, visual tracking, fine and gross motor skills, hand-eye coordination, attention span, sense of self, language and emotional skills.
Product Features
⠀ Non –Toxic, lightly varnished
⠀ Toy standards approved EN-71
⠀ Solid Wooden Frame - 100% Beech Wood
⠀ Durable, lightweight 
⠀ Collapsible stand
⠀ Cotton carry bag

* Adult supervision required at all times. Please do not leave your baby unattended. Mikró Australia take no responsibility for accidents or injuries associated with failure to follow safety instructions. 
Dimensions
32cm wide
36cm High
Weight - 1.46kg
FAQ
How do I clean the Tummy Time?
We recommend wiping the beech wood stand with a warm cloth and dishwashing liquid. A general, Non-toxic Glass gleaner and paper towel will remove hand prints or baby kisses from the mirror.
What is the Tummy Time Mirror made from?
Our Tummy Time Mirror is made from non-toxic, lightly varnished Beech Wood. It has a acrylic mirror insert so is absolutely Baby safe, no breakable glass! 
The stand of the mirror continually slips back, how do I get it to stand?
If your mirror is having difficulties standing try these handy tips to tighten the stand. 
1. Using your preferred hand flip the mirror in a full 360 back wards whilst holding the stand in place, with your alternative hand. This should tighten the joints.
2. Use your handy allen key found inside your Mikro' bag!
I am not in love, may I refund or exchange?
Yes of course! We want our customers to be happy with their purchase and so we offer 100% money back guarantee on our products. If you are returning for an exchange, shipping costs will incur. To read more, follow the link to our Warranty, Refunds and Returns page.
Shop Now, Pay Later with Afterpay!
Free Gifts
With every purchase, you will automatically receive bonus downloadable play-based information designed for you by Early Childhood Educators, to get the most out of your Tummy Time Mirror.
Warranty
Please inspect your item on delivery, as damage must be reported on opening. All warranty claims require you to inspect your mirror on delivery. 
Shipping
Mikro' Australia ships Australia wide. Shipping times are business days only.
Metro VIC - 2 days
Metro NSW, ACT, SA, QLD, TAS, WA, NT - 3-10 days
You will be notified once your item has left Mikro' Australia HQ with a tracking number.