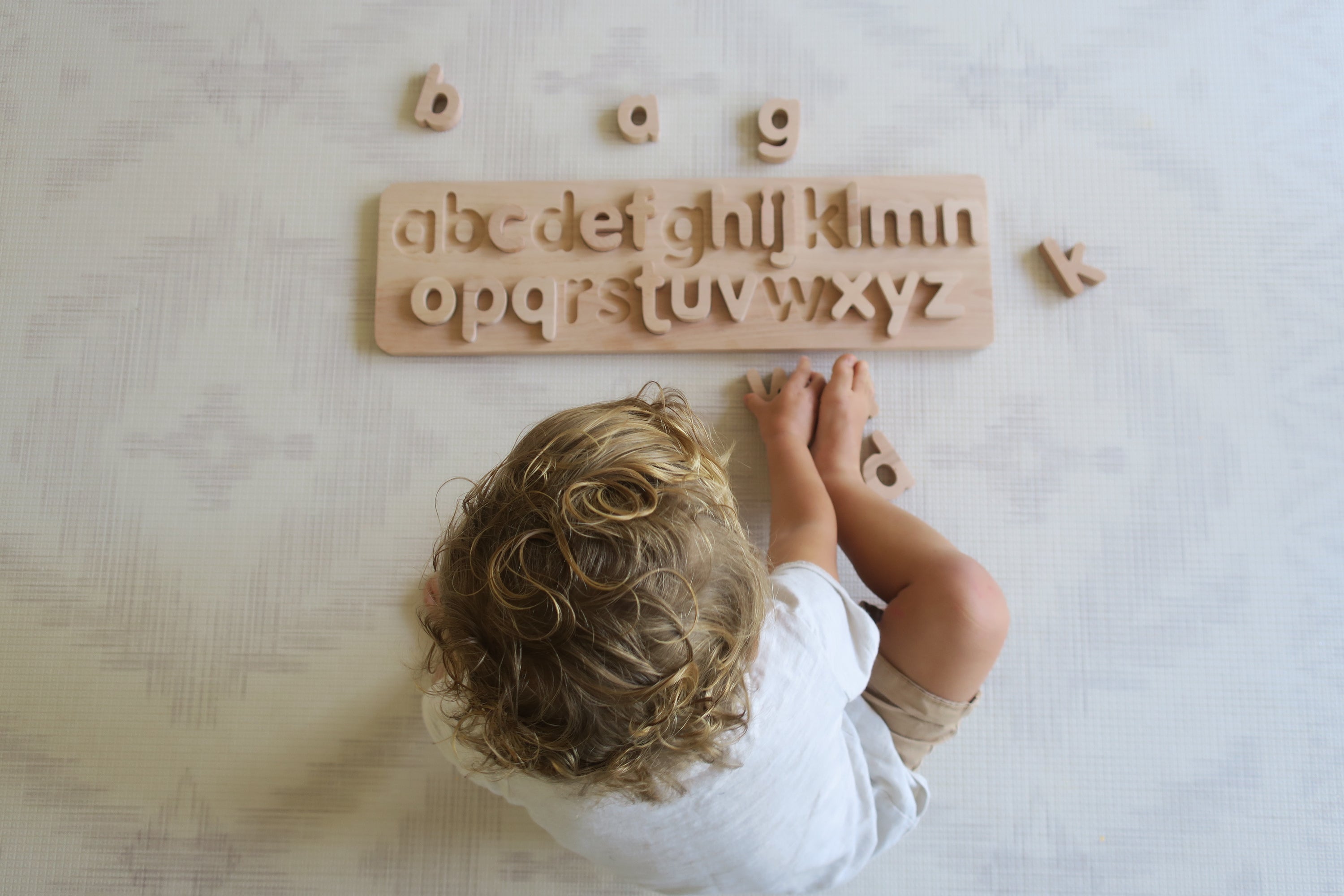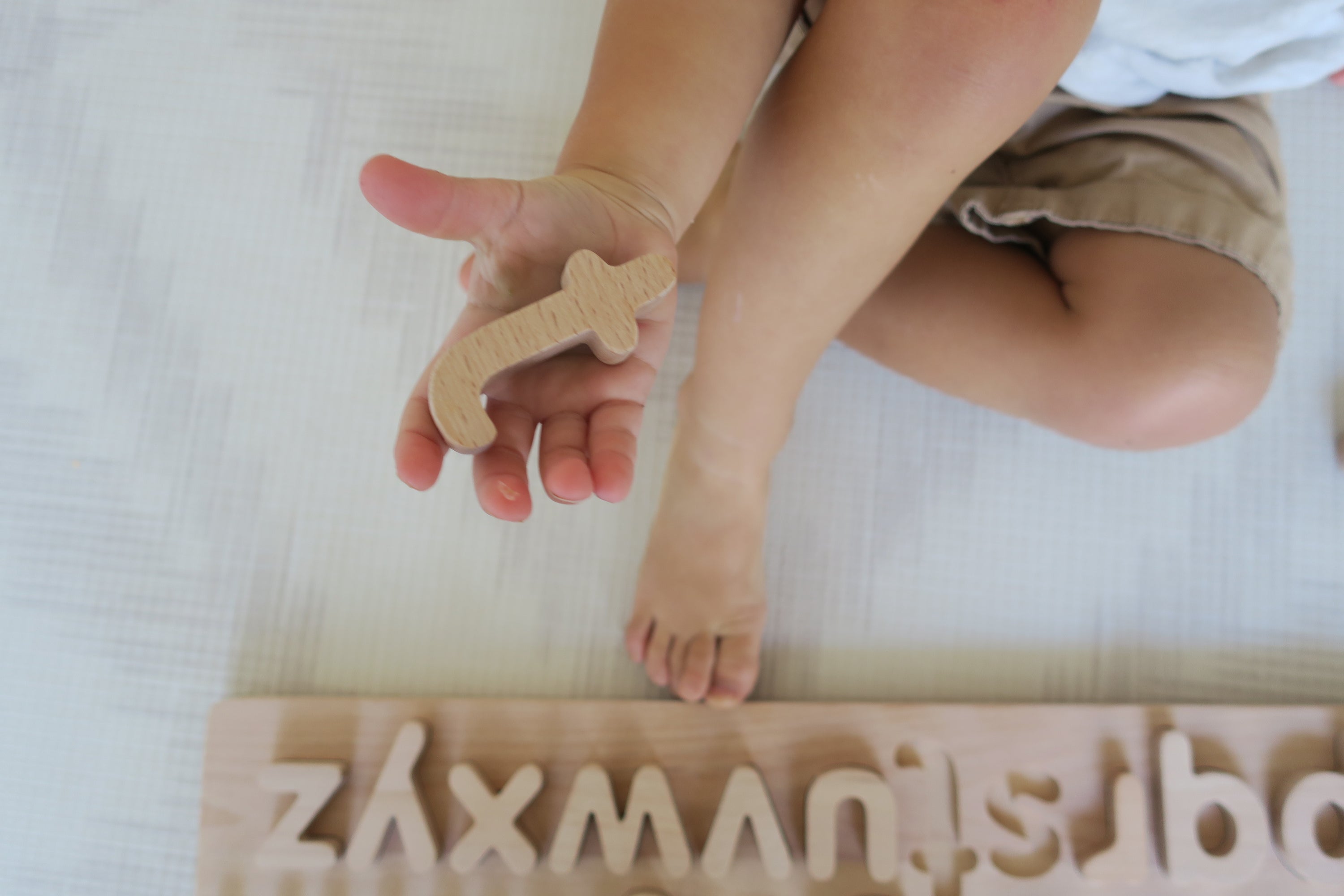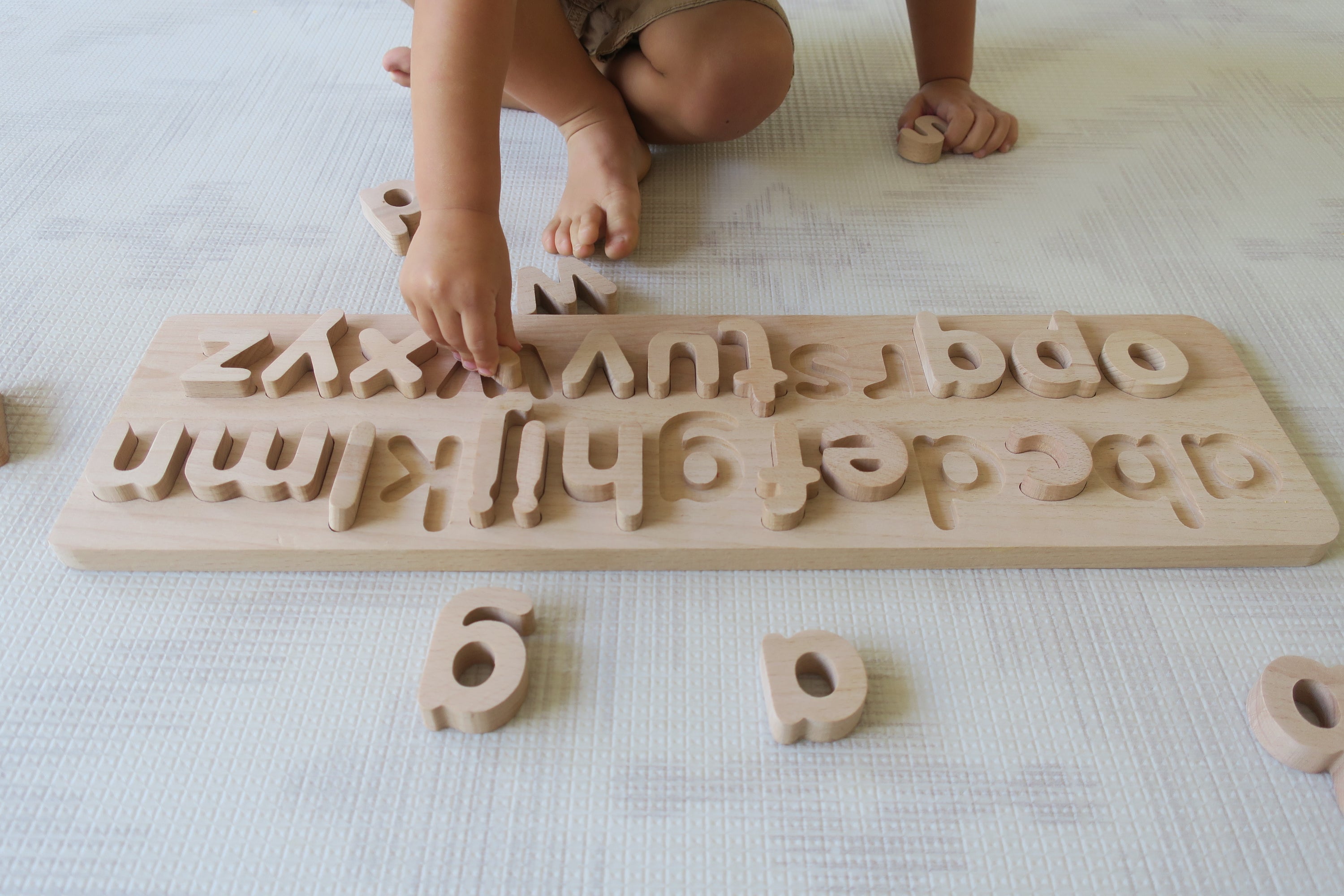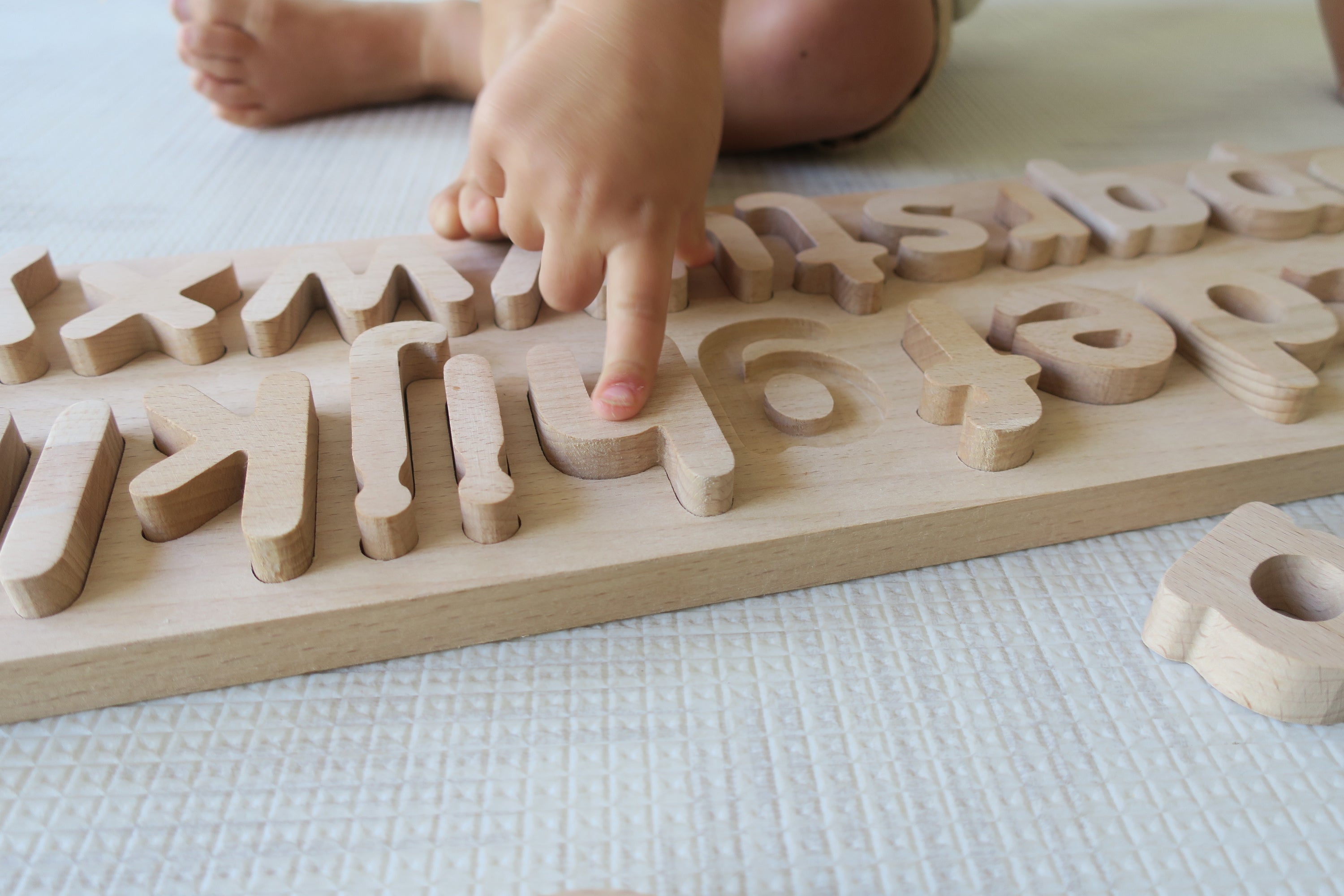 Description
Puzzles are engaging activities for children to develop fine motor and problem solving skills.

Our Alpha Puzzle consists of twenty six, lower case letters of the alphabet, made of beautifully hand crafted beech wood. Each wooden letter from A-Z is large enough for a toddler to grasp and manipulate, practicing fine motor control and problem solving skills.
Invite your child to recognise each letter of the alphabet with our developmentally appropriate font, known as 'ball and stick'. This print is predominantly adopted in Early Childhood and Lower Primary education, as it allows children to identify and form each letter with ease. 
Our Alpha Puzzle is of a high quality meaning it will be an heirloom for the next generation in your family.
Product Features
26 letters of the Alphabet (a-z)
"Ball and Stick" Print
Non-Toxic, Durable
Solid, Natural Beech Wood
Toy Standards Approved 
Hand-eye coordination & Fine Motor Development
Problem Solving
Play Time Ideas
Use the giant letters in playdough as stamps!
Pair the empty letter board with sensory materials such as pom poms, balls, cooked spaghetti or beans and use tweezers (found in our Sensory Tool Kit) to fill the letter imprints. The perfect fine motor Literacy learning experience. 
Our Teacher Tips
Introducing the letter sound and name, at an early age is great exposure. Whilst playing, incidentally voice these concepts. For example, 'Oh, you have the letter 'S' it makes the sound 'sss' like snakes.
 
For older kids, pop the letters into a touch and feel bag. Without showing your child, choose a letter and describe it whilst holding it from inside the bag. For example,  'The letter I have in my hand has a straight back and a big round belly.' Ask your child to guess what the letter could be then alternate roles. 
FAQ
Will the puzzles dry out and crack with age?
We recommend oiling the puzzle board and number/alphabet pieces with a food grade oil such as olive oil or coconut oil, before first use. This will preserve your tools and keep them looking and feeling new.
Can I use the puzzle pieces or boards for sensory play?
Absolutely, combining the puzzle board with scoops and sensory materials is another way to make a fantastic learning experience for your little ones. If using with playdough, water beads or similar wet ingredients, we highly recommend oiling the pieces and boards as per the above in order to prevent sticking.
What is the best age for the puzzles?
Puzzles are a great learning tool for most ages. Even of your little one isn't yet ready for number and letter recognition, the concept of puzzles is a mathematical skill in its own right. Turning, flipping, sliding are all math concepts puzzles teach and therefore as long as your little one shows an interest you are presenting your child with an appropriate educational toy. There is no right or wrong age as long as they are not mouthing the pieces as this is a hazard.
Warning: Not suitable for children under 24 months. Choking hazard due to small parts.
Shop Now, Pay Later with Afterpay!
Free Gifts
With every purchase, you will automatically receive bonus downloadable play-based information designed for you by Early Childhood Educators, to get the most out of your Puzzle.
Warranty
Please inspect your item on delivery, as damage must be reported on opening. All warranty claims require you to inspect your puzzle on delivery. 
Shipping
Mikro' Australia ships Australia wide. Shipping times are business days only.
Metro VIC - 2 days
Metro NSW, ACT, SA, QLD, TAS, WA, NT - 3-10 days